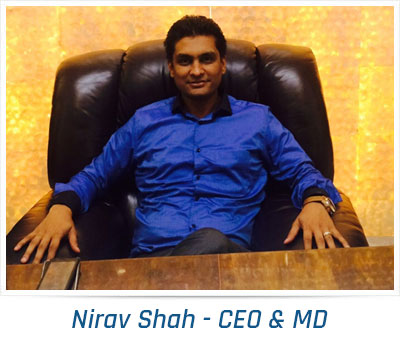 Hello,
Greetings from Triton!!
I am Nirav Shah, C.E.O., Triton Process Automation Pvt. Ltd. & It is my immense pleasure to forward this message to my teammates, respected customers, & all other distinguished stakeholders in the industry. This message depicts a brief introduction of Triton, an introspection of our past achievement & a vision of forthcoming years.
When I started in year 2008, there was a dream to make a technology driven company, a company driven by values, not only its virtues, a place where no boundaries to learn, to create & to innovate. I always wanted to make a company, where I would like to go every day to have some new challenges to face upon, as challenges make you strong & learn every time something new.
Triton Process Automation Pvt. Ltd. was established in year 2009 (formerly known as: Triton Process Technologies), having all pivotal ideas at its core. At Triton, we decided not to become like some other technology company. We decided to provide complete integrated solutions to our customers.
Within such a short span of time, we have satisfied customers in HVAC, Power, Pharmaceuticals, Oil & Gas, Food & Beverages, Water/Waste water treatment industries. We have arranged customized technical solutions to a gamut of our esteemed customers, & their long association with us is a memento of their trust in our abilities.
After beginning from our office in Mumbai, we never looked back & our organization has grown by leaps & bounds. Today, We have sales & service offices across the country. Each Branch office has their own sales & service team, which has not only helped us to increase our reach among our customers, but also to provide local service support.
We also got associated with renowned Technology driven companies & our partnerships with them are creating history as we speak. I would also like this opportunity to show my gratitude to partners for rendering their support time to time, whenever & wherever required.
I feel fortunate to garner such a highly intellectual, technical human capital, within the company.
We, Tritonites believe in giving customized solution to our clients & customer satisfaction is our utmost priority. Whenever we are assigned any task, our team gets involved into it with high sincerity & they make sure, it is completed within stipulated guidelines. It does not stop them to innovate & come up with creative solutions, which most of the time, is acceptable by the customer.
Our team is appreciated by customer for their presence of mind, & technical expertise, time to time.
We have come a long way, but our journey has just begun. We believe in continuous improvement, and have a lot to learn. We will strategically invest into product development & people skill, to bring out the best out of them, as even a diamond is chiseled & chipped out rough edges to shine better.
I foresee, 'TRITON' to foray into top brands associated with technology in coming future, not only in our country but across the World. But we also understand, that could only be possible by sustainable changes for company's growth & continuous evolution.
With high hopes for future & best wishes to everyone!!!